Manchester City at Advantage Over PSG to Play in Their First Ever UCL Final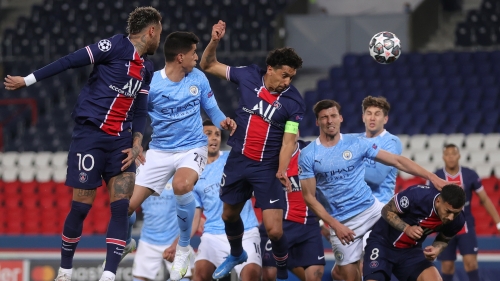 Manchester City has one foot in the final following their 2-1 win at Paris Saint-Germain, and if history is anything to go by their first-ever European Cup/UEFA Champions League final appearance looks possible - in all 47 previous events that an English side won a knockout away first leg in the European Cup/UCL they progressed!
The Citizens have not conceded until the 75th minute in both previous home encounters vs PSG (W1, D1), City certainly appears in a strong position.
City in a good run of form has won 12 of their last 14 home matches, impressively leading at halftime in ten. They've been quick to score in the UCL too, netting within 20 minutes in four of five such home games this term.
Like Man City, PSG terribly want to become another different UCL/European Cup winner and first new trophy holder since Chelsea in 2012. However, that first-leg defeat was the first time in over 20 years that they lost a UCL game after leading at halftime, and they've now won just once across their previous four UCL fixtures (W1, D1, L2) despite scoring the first-half opener in three.
With a Ligue1 title to fight for, this season seem a little difficult for PSG's standards, although you wouldn't know it when looking at their ten-game away form (W10). Famous wins over Bayern and Barcelona are included within that and makeup two of seven matches during that period where PSG scored in both halves.
Players to watch: After grabbing the first-leg equalizer, Kevin De Bruyne has been City's first scorer in the last four UCL games he's netted in. In a similar vein, PSG's Neymar has netted a first-half opener in the previous four UCL matches hes scored in.