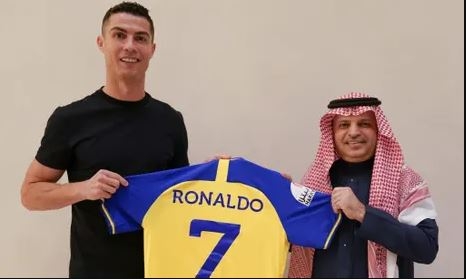 Following Cristiano Ronaldo's failed attempt at a glorious farewell to his "boyhood" club and a world cup quarterfinal defeat, his transfer saga has sparked much speculation and debate, with only a handful of European clubs vying for his services. A move to Saudi Arabia was confirmed just a few days ago on several official social media pages. With the former Real Madrid forward signing a contract with Saudi Arabian club Al Nassr FC, much has been written about the contract and what is known about it. Is Cristiano Ronaldo's move to Saudi Arabia a bad deal for him? What are the specifics of his agreement? How much money will he make? What are the other benefits and add-ons? We're assuming you've come here to learn more, so we'll go over his contract in this article. Read on!
Ronaldo's Move to Saudi Arabian Side – Al Nassr FC
It was only a matter of weeks or months after his contentious interview with British broadcaster Piers Morgan that Manchester United kicked him out of the club. And, as expected, the Red Devils, where CR7 grew and made a name for himself, terminated his contract.
After leaving the Premier League giants for the second time, it was expected that he would join another European club to compete in the UEFA Champions League, but that did not happen. His next destination is Saudi Arabia, which raises many questions for those following rumors and news about this transfer.
Everyone remembers this transfer differently. Some say CR7 made a wise decision, while others criticize him for doing what he wanted with his contract and remaining playing time. But let's focus on how this saga will benefit both parties: the two parties with deals that Ronaldo's current situation may impact.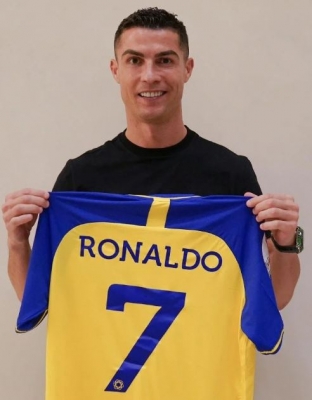 The $200 million-per-year deal with Al Nassr FC
According to The Guardian, the 37-year-old Portugal captain joined Al-Nassr in a deal worth $200 million per year, the highest salary in Saudi football. The agreement, which will see Ronaldo sign a two-year and-a-half contract with the Saudi Arabian club, was negotiated by Jorge Mendes, who also represents Ronaldo.
Here are the key points to know about Cristiano Ronaldo's big contract move to Saudi Arabia:
His salary will be $75 million per year for his on-field services, which is more than what he made in Spain and Italy combined.

The Saudi-Arabian contract will have him earning over $1 million per week, which is nearly double what he was earning at Manchester United. He took home a staggering $605,000 weekly at the English club.

His Saudi-Arabian contract is for two and a half years, ending in June 2025.

The contract earnings increase to approximately $200 million per year due to the inclusion of other commercial deals.

Unlike some rumors, the contract does not include an option for an additional year, which could increase his total compensation.

There has been no mention of a salary increase if he scores a certain number of goals this season.

This is the highest salary ever paid to a football player.
But who is this Saudi Arabian club that they have so much to spend on a single player?
Brief Information on the Saudi Arabian Club - Al Nassr FC?
Al Nassr is a Saudi Arabian professional football club based in Riyadh and was founded in 1945. The club's name is based on the Arabic word Nasr, meaning Victory. It is one of the most popular clubs in Saudi Arabia. The team plays in the Saudi Professional League, the First level of football in Saudi Arabia.
The UAE club, which is considered the first and oldest club in the United Arab Emirates, plays its home games at Mrsool park Stadium located in Riyadh, Saudi Arabia. Al Nassr has won nine Saudi Professional League titles; 1975, 1980, 1981, 1989, 1994, 1995, 2014, 2015, and 2019. They've been runners-up six times, 1977, 1978, 1979, 1991, 2001, and 2020.
The team has also won six King's Cups, three Saudi Crown Prince's Cups, three Saudi Federation Cups, two Saudi Super Cups, and a single Saudi Second league trophy in 1963. Faris Najd (which means Knights of Najd), as they are sometimes called, have also had some international titles, winning the Asian Winners' cup and Asian Super Cup once in 1998. They also won the GCC Champions League twice, in 1996 and 1997, but have yet to make an impact in the AFC Champions League.
Is Cristiano Ronaldo's Move to Al Nassr FC a good one?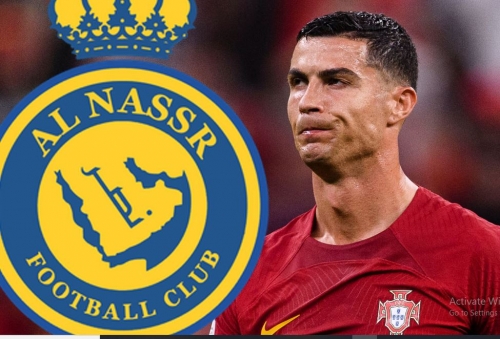 The move to Al Nassr FC is not just a good one for Ronaldo but also for the club. We must not forget that the Portuguese international is 37 years old and will be 38 in less than a month, and to be offered such pay is more than any type of retirement plan that anyone could wish for.
The player's playing time should become more consistent and regular as a result of the switch. This will ensure that he is ready to go for his international duties at any time in the coming months. Maybe, just maybe, he'll be able to stay in shape for the next FIFA World Cup in order to fulfill his long-held dream of playing professional football alongside his son, Ronaldo Jr.
Final Thoughts
Unsurprisingly, Cristiano Ronaldo and his new club have been trending on social networking sites such as Twitter and Facebook as a result of this transfer. People are expressing their enthusiasm for his decision, claiming it is a win-win situation for both parties.
Since the announcement of Ronaldo's arrival at their club, the platform's official social media has seen a significant increase in followers. Another certainty is that his fans are eager to see him play in the Saudi Arabian league. Multiple reports confirm that several TV channels and streaming platforms are willing to acquire the rights.
The biggest unknown is whether he will be content without the UEFA Champions League, which he adores, for the duration of his contract.